Welcome to the March 2018 edition of "O"vertones, to all of the new subscribers to the newsletter, and to this new month, which has – at least in these parts – arrived like a proverbial lion in the form of a Noreaster snowstorm which dumped 8 inches and up, of heavy, wet snow in my region. Since the calendar has not officially marked the arrival of spring, I guess we have no alternative but to roll with it, which is something we do quite well in Western New York! By the time I left for work, the main roads were clear, and my trusty Subaru handled the morning commute with its usual efficiency.  

February redux -

Not a cancellation was to be seen in the month of February, despite some tricky weather conditions en route to both of my two road dates. Snow accompanied me along most of my drive to Oxford, NY, and with about 40 minutes left until arrival at the venue, I had an experience which definitely left a lump in my throat. As I drove slowly over the crest of a hill on one of the rural, unpaved roads, I looked down to the bottom to see a semi in the opposite lane – with its 4-way flashers on, clearly in the process of shifting through its gears, and slowly making its way up from the bottom of this 45 degree incline. That wasn't the scary part. The scary part was seeing oncoming cars in my lane, at the bottom of said hill, attempting to pass the truck. So, I put my foot on the brake, and due to the combination of the angle of the hill, and the snow covered road, I steadily skidded downward, fearing that I would not stop in time to avoid a collision with the first vehicle in the line of cars attempting to pass. Eventually, the cars in my lane saw me approaching, managed to pull off the road into a driveway, and my car finally came to a stop right next to the semi. Needless to say, I was not only relieved, but I'd be willing to bet that my complexion may have been similar to that of someone who had just seen a ghost! 

Following the intimately attended show at 6 on the Square with my co-bill partner Kyle Hancharick, we, along with Kyle's mom, and a few volunteers, met for a gathering at the home of our wonderful hosts David & Mary El Emerson, where drinks, snacks, and conversation flowed until we retired close to the midnight hour. The following morning, David & Mary El kindly treated me to a late breakfast/lunch prior to my departure to Rochester for my show with Alex Creamer that evening. With temps in the high 30's and a light rain falling, I hopefully anticipated a much smoother commute to the Rochester area. That was until I exited I-81. Shortly after entering I-490 towards Rochester, a steady snowfall began, which continued through the entirety of our show, and on my commute home afterwards. Watching the falling snow through the windows of New Roots Coffeehouse prompted me to add a newly written song to my set list, "A New Season", which I had completed a few days earlier, when it seemed like the announcement from the groundhog a week earlier was indeed accurate in its prediction that this winter would surely see another six weeks. Jeff Estes, a Binghamton, NY resident, ardent music supporter, and mutual friend of Alex and myself – was in attendance, capturing my performance of this new song, and posting it to You Tube for your enjoyment - https://www.youtube.com/watch?v=s_lrkysfXWk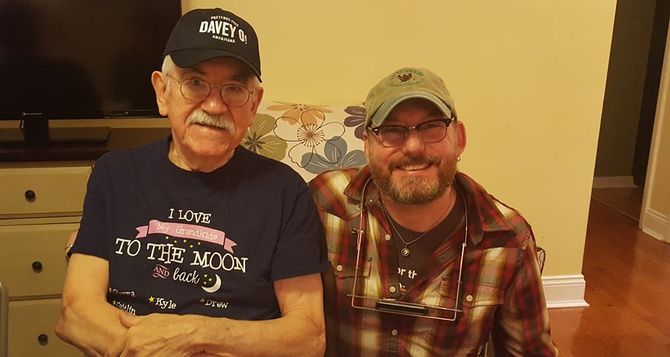 One additional experience to recount from last month (see above photo), and what ended up as the highlight, involved an opportunity where I was invited by Susan Winnie to surprise her father Hank by attending his 80th birthday party, as well as to perform a house concert for him, and his family. A little over a year ago, Susan and Hank attended one of my gigs at a local restaurant, and kindly purchased a CD. And over the course of this past year, I would see them on the occasions when they attended one of my shows. They continued showing their support right up to my current release, and have become - dare I say – "fans" of my music. Even with the release of "A Bright Horizon Line" being less than a year ago, Susan has joked with me on several occasions that I need to record a new CD soon, because all Hank plays in the car are the three CD titles of mine that he owns. Hearing this kind of praise always makes me feel (not necessarily in order); proud of my work, gratefully humbled, and mostly embarrassed in a shy, "aw shucks" kind of way. Thank you Susan for the invitation, and Hank – it was an honor to help you celebrate 80 years of life.  I wish you, as they say in Poland – "Sto lat" (one hundred years!)

It's a small world after all…..

Yes, at times it truly is. I cannot tell you the amount of times when I have played a show, and regardless of location, someone has approached me to tell me they're originally from Buffalo, or that we have a common friend, etc…. At the house concert/80th birthday party for Hank, I finished my first set of music with my song "Ev'ry Single Day" – one that was written to honor the work ethic of my father after he passed away in 2010. I always tell pretty much the same story prior to performing the song, in which I talk about my father's upbringing, how he and my mother eventually purchased a house in the Buffalo area, and I also touch on my dad's employment for 25 years as a janitor at a bakery that made Wonder Bread. During my break, I was approached by one of the people attending the party, who introduced himself, and went on to tell me that he too, was employed at that same bakery. After several minutes of conversation, of showing him photos of my dad on my phone, and of my brother (who also worked there for a time) we put all the pieces together, and had some spirited conversation reminiscing about those days. Florian Mendel – thank you for allowing me to add one more stitch to the fabric I have hoped to weave with my work.

Answering the call…..

As mentioned in the February newsletter, while I was under the weather with some type of bug, I suddenly became a conduit for ideas, and new songs were coming along at a much faster than normal pace (at least for me). Over the past month or so, I have finished six new songs (my typical rate of productivity finds me writing that amount over a 6-8 month period!), including two that could be considered "protest" or "political" in content - a subject matter that is very rare for me to touch upon, but considering what makes up most of the "news of the day", these two needed to be written. Whether these new songs will make it on to a recording, into my live set list, or not - remains to be seen. But the fact that I've been able to realize these pieces of creative work to their current state of completion is something I will not take lightly, or for granted - for a dry spell could easily be around the bend. And in a few instances, when the business of booking shows was to be the order of the day - answering the call of the muse turned out to be the much better choice. 
  
I think I might have heard the highway calling…..

Not unlike the weather that has greeted us here in the Northeast, my schedule for the month of March also arrives like a lion, with 6 dates over the next 8 days, 4 of them tour dates split between parts of PA, and NJ. It will certainly be a month filled with highlights as I look forward to seeing some old friends in these travels, and to finally kick off my once-a-month songwriter series, Nickel City Sessions at Nickel City Frets in Akron, NY on Friday, March 23rd. NCF owner Mark Buell and I are anticipating a good turnout for this inaugural show, which includes three local favorites – MaryBeth King, Chris Squier, and Tina Marie Williams. For my locally based newsletter subscribers - your support of this series will be greatly appreciated, as we hope to grow a desperately needed Folk/Roots/singer songwriter scene in the region!!! 

Since I have virtually no presence of traditional Irish music in my repertoire, I will once again be taking off from performing on the weekend of St. Patrick's Day. On that day, I will gladly take a seat on a barstool, with a pint o' Guinness in hand, and participate as an audience member. Slainte! 

That should tie things up nicely for this month! As always, you can visit my website, www.daveyo.com/tour to view my full calendar, allowing you to plan your schedule accordingly.

I close by borrowing a signature used in the emails of my friend Tracey Delfino - 

In kindness,