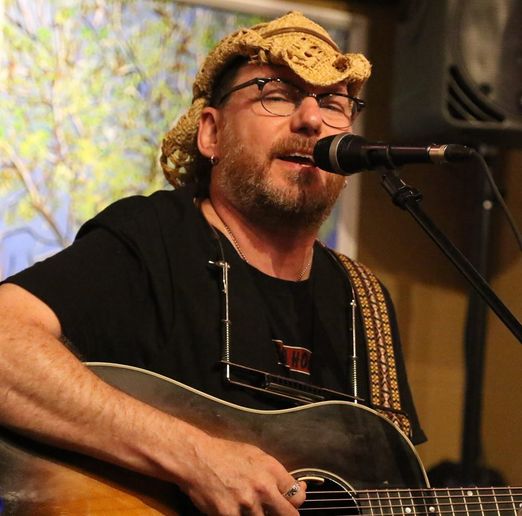 Greetings!!!!
(Davey O. photo credit - Aaron Winters)
Welcome to the September/October 2018 edition of "O"vertones. It's good to be back in touch with you. From observations during my walks around the ponds near my home, change is in the air.  I see it in the formation of the clouds, the absence of certain birds due to migration, I hear it in the breezes that rustle the drying leaves, and as the sun sets earlier and earlier, I see it in the shortening of these days. It won't be long until my 6:30 am walks with our dog Addison are greeted with darkness, and a daily exchange of "good morning" with the high school students waiting for their bus on the corner across from our home. The start of football season, baseball playoffs, and hockey season are surely not far behind. Putting away patio furniture, and breaking out the clothing best suited for colder months will soon be inevitable in these parts…..
With all of that said, July and August were amazing months for touring and adventure, seeing old friends, and making a few ones, especially in what turned out to be an especially busy August that totalled 17 shows! It was one where I not only performed in a yurt for the first time – I also slept in one for the first time as well. The location was Parsonsfield, a small town in a fairly remote part of Maine, and just a mere 4 miles across the border from New Hampshire. In addition to performing for the attendees of a mountain bike festival, I was treated to a lobster and mussel bake, a variety of craft beer, and all the trimmings! The hospitality was simply amazing, and meeting and conversing with the festival attendees who came in from various parts of the world was uplifting, and connective. As I finally retired for the night, the sound of the rain hitting the roof of the yurt provided a soothing rhythm that under normal circumstances, would have lulled me fast asleep, but could not, unfortunately, drown out the snoring of one of my yurt mates. Perhaps a set of earplugs would have remedied that! I'll need to make a note to pack those for the next time.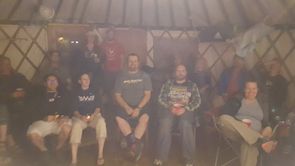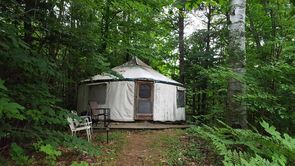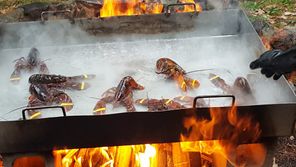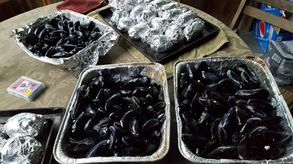 There's lots of good things coming up in my little ol' world over the next two months, including first time visits to Minnesota, and South Dakota, returns to Michigan, West Virginia, Ohio, and Pennsylvania, as well as various parts of Massachusetts, including a date at one of my favorite venues - Luthier's Co-op, located in the beautiful Berkshire Mountains in the western part of that state, a house concert that will be hosted by my brother Ken and his wife Judy at their home near Boston, and I am honored to have been selected to kick off the stellar lineup for the 2018 Joe Davies Folk Festival in Middleborough, MA - bright and early (for a musician, anyway) at 10:30 am on September 15th. You can view all of these good things that are happening, and check to see if I'm coming your way, by simply visiting my website, https://www.daveyo.com/tour  These next two months will certainly be ones of making many more memories in the scrapbook of my mind!
My songwriter's series, "Nickel City Sessions" rolls right along in September and October, with another pair of top notch singer/songwriter lineups on tap (please click on their names to visit their respective websites!). Joining us in September will be two of my favorite locally based songwriters – Nick Kody, and Maria Sebastian, along with Eric Lee, who will coming in from western MA for this date. You might recognize Eric's name from the liner notes of my latest CD, "A Bright Horizon Line", as he contributed wonderful parts on both mandolin, and fiddle to several songs. Eric is also a member of the touring band of legendary folk singer/songwriter, Eric Andersen. In October, I am delighted to welcome three artists who are well respected within the folk community who I have come to know through my attendance at the NERFA Conference these past 7 years. Joining us on October 18th will be 2011 Kerrville New Folk Winner, Louise Mosrie, from Massachusetts, 2001 Kerrville New Folk Finalist, Rob Lytle, and from Greenville, SC, Falcon Ridge Folk Festival Emerging Artists, Christine Stay and Aidan Quinn - a wonderful duo AKA, Friction Farm. And more good news – beginning in September, no more car show in Akron to interfere with parking/attendance!!! If you live in WNY and are interested in attending, set your GPS to – "83 Main Street, Akron, NY". Third Thursday of the month at Nickel City Arts.   
I have already started booking the 2019 season of Nickel City Sessions, and we already have some incredible artists confirmed. You can learn more about Nickel City Sessions, and "like" our page right here -  https://www.facebook.com/Nickel-City-Sessions-1537538846300980/  Nickel City Arts owner Mark Buell and I look forward to seeing you, as we grow and curate this much needed folk music series!!!
If you're a fan of my music, and would like information on hosting me for a house concert in 2019, please feel free to email me at booking@daveyo.com I will gladly go through the details on how we can cooperatively present a house concert in your living room, or backyard for you and your guests. As the saying goes, "have guitar, will travel".....
As we transition into another season, I wish you crisp autumn days, walks with your favorite person, or pet, with both of you wearing your favorite sweater, or spending a chilly evening gathered around the warmth of a campfire! I am always grateful to be of service to you in my performances, and most of all, I am grateful for your continued support.
In peace, and with kindness……
*A gentle reminder to always call the venue before leaving for the show to make certain there are no cancellations due to weather, accidents, or other unforeseen circumstances.